Voluntary Company Liquidation
An insolvent company liquidation is the insolvency process used to close down a business when the Company cannot afford to repay its creditors in full.  This is the most commonly used liquidation process used by directors of insolvent companies due to its cheap costs and due to its ability to save good businesses by reducing the burden of having to repay all of the Company's built up debts in full. Quite simply, these historical debts often become unmanageable and the losses only get worse. Therefore, this form of insolvent restructuring allows for the business to survive even if the Company cannot.
Care should be taken to ensure that any advice sought is from fully qualified liquidation specialists, such as Bridge Newland Limited, as we're often told of horror stories from our clients who have been poorly advised by unqualified advisers. We regularly hear of clients being forced into debt management and/or repayment plans where very little capital is repaid off debts or even where personal funds are handed over to creditors which would otherwise not be payable due to the Company's status as a limited liability and therefore be sure to only seek advice for your insolvent company by a licensed insolvency practitioner ("IP") such as us. Directors should also take care to ensure that they are not forced into a CVA if the repayment sums aren't affordable as approximately 60-70% of these fail and unfortunately it is usually because the IP has sold it in order to receive a fee for its proposal, then a secondary fee for the subsequent liquidation.  Bridge Newland rarely propose CVA's for this reason and have become Liquidation specialists as a result.
Bridge Newland Limited have highly qualified and experienced staff and our licensed insolvency practitioners are happy to chat with you, free of charge, to provide Company Liquidation advice, should you think your company is insolvent and may benefit from a Company Liquidation.  You can also find our detailed advice, guides and flow diagram below.
What is an Insolvent Company Liquidation?
You company is insolvent if it cannot pay its debts at the time in which they fall due.
Bridge Newland Limited specialise in both forms of company Liquidation for insolvent companies, being a shut down liquidation, and a start afresh liquidation, and provide both at a cheap rate. We offer these services in specially designed packages to allow a simple solution to your liquidation needs.  More details on our liquidation packaged solutions can be found by selecting them from our main menu.
Both of these voluntary liquidation processes involve the directors of the company signing a board meeting minute (to agree to give the instruction to place the company into liquidation) and then these instructions are then ratified by the members (usually by a postal resolution and then all creditors are written to, informing them of the intention to liquidate either by deemed consent or by virtual meeting, both being far simpler than the previous procedure of an, often hostile, creditors meeting.
Typically, the majority of cases can be done by deemed consent, where the resolutions to appoint the liquidator and wind up the company get approved automatically, providing the requisite majority of creditors do not object or ask for an alternative method to consider them.  Therefore, typically the notices of the decision date are sent with full details of the Company's statement of Affairs giving 2-4 weeks' notice and all is approved without the need to face up to creditors personally.
The process of writing to the creditors and preparing the financial information on the Company is all done by Bridge Newland Limited and approved by the Director of the Company and therefore little work is required by the Director at commencement of the case baring providing the information requested at the outset.
Virtual meetings (where a telephone or zoom/teams meeting is held instead of a postal vote) are recommended if there are a large number of creditors, if there are creditor disputes or if creditors wish to obtain answers to questions from Directors prior to deciding how to vote, that they don't wish to ask and have answered beforehand.
The resolutions considered (e.g. the appointment of the Liquidator etc.) are passed when either the decision date for the deemed consent procedure has passed or the requisite majority (by value) of those who vote, vote in favour of them at the virtual meeting.  Once passed, this is when the Company is considered formally in Liquidation.
If not already sold, once the liquidator is in office, he can proceed with selling the company's assets. Where realisations are greater than the costs of the Liquidation, the Liquidator must distribute these surplus funds to creditors by way of a 'pence in the pound' dividend on their claims. The Liquidator also has a statutory duty to investigate the affairs of the insolvent company, to establish the reasons for the company's insolvency and to consider the conduct of the directors.
When a company becomes insolvent, the directors' duty of care is no longer to the company's shareholders, but to its creditors. The directors must ensure that they act in the creditors' interests at all times, and CVL provides a method by which they can fulfil their statutory obligations whilst ensuring that the company's business is wound up properly, leaving no loose ends.
The main advantages of voluntary liquidation are…
It is a much simpler process than Administration and therefore is often cheaper.
The Insolvency Practitioner who deals with the Liquidation is generally the one instructed by the Directors as opposed to it being the Official Receiver (a government official) through a Compulsory Liquidation or an Insolvency Practitioner nominated by a creditor.
There are more powers given to a Liquidator to investigate the affairs of the Company and its Directors.
There is no automatic stay on legal actions (like in a Compulsory Liquidation) therefore ongoing legal claims by the insolvent Company against a debtor can be continued during the Liquidation or assigned.
The advertising of the creditor's meeting and then the Liquidator's appointment is no longer mandatory (it's discretionary).
Directors comply with their legal duty of care by taking proactive action.
The main disadvantages of company liquidation are…
There is less protection against legal action from creditors than in other formal insolvency processes.
Some consider that where Directors wish to set up and trade a new business, there are more logistical issues due to the time which passes from instruction until the Company is formally in Liquidation.
Should the Directors be involved in the promotion, formation or management of a Company going forward with a same or similar name to the insolvent company, then there are restrictions on the use of this name and notice of its use may be required.
We have separate information pages for our close down liquidation package or restart (phoenix company) liquidation package therefore to view these go to packaged solutions.
FREE GUIDE…
Our detailed PDF guide on a Creditors Voluntary Liquidations, which helps explain the process further and which helps you decide whether it may be right for your Company, click here:-
(CVL) Advice Guide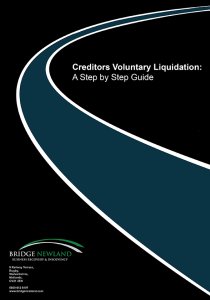 Compulsory Liquidations
If an insolvent company liquidation is not suitable for you (usually because you do not have the funds to pay the costs to voluntary place your company into liquidation) then it may be that a Compulsory Liquidation is more suitable.
A Compulsory Liquidation is usually where the creditors or the court present a Winding up Petition against the insolvent Company, to place it into Liquidation as opposed to the directors or shareholders voluntarily doing this and therefore paying the costs of this in the process.
The Compulsory Liquidation involves the court therefore they will set a date to consider the petition at which point the court judge will decide whether the Company should be placed into Liquidation. The Official Receiver (a government body) then deals with the Liquidation, as opposed to an independent insolvency practitioner, unless there are sufficient funds in the case to pass it to an independent insolvency practitioner in which case this is done on a rota basis. The Directors and Shareholders do not have to agree to this action.
HMRC are the most prolific presenters of petitions due to their hard line stance on unpaid VAT and/or taxes but any creditor can issue a petition providing they have a debt of over £5,000.
The only real advantage to a Compulsory Liquidation is the cost saving where as the disadvantages include, stricter investigations, higher costs, a longer time to resolve and a black mark on your name as a Director for not voluntarily resolving to Liquidate the Company.  Therefore if you think that Liquidation may be suitable for your company, a Compulsory Liquidation should be the last resort.
Bridge Newland are Liquidation specialists, and at rates starting from £3,500 plus VAT we are one of the cheapest around, therefore if you need further help and advice regarding our Liquidation services, please contact our free phone number on 0800 612 6197. All initial advice is free.